We're proud to announce that we've been listed in the Best Companies' 100 Best Mid-Sized Companies to Work For 2021, coming in at an incredible 12th place. That makes it 8 years in a row now, something we're absolutely over the moon about after the difficult year that everybody has had.
In addition, Click made it into the Top 10 in the regional lists, with a 6th place finish in the Midland's 100 Best Companies to Work For 2021, alongside a host of great Midlands based businesses.
And it doesn't end there, with another epic result in the new Business Services' Sector 20 Best Companies to Work For, where Click ranked 2nd. An unbelievable achievement! This newly established award recognizes us as one of the top performers in our sector, and we couldn't be more proud to be near the top of the list for this award.
"I'm thrilled that we are listed in the top 100 companies for an eighth year running, and not only that but to be in three lists in incredibly high positioning too. We want everyone who works here at Click to be proud of who they work for, to feel valued as an individual, supported by their manager and given the opportunity to grow. We continue to focus heavily on engagement as we truly believe that our company IS our people, and if our people enjoy what they do then ultimately our customers get to feel that."

Chris Vince, Director of Operations
Employee engagement and company culture is at the heart of everything we do at Click. This year more than ever, we are delighted to be part of the Best Companies listings, which recognizes our commitment to our employees.
Like many others, we have had to adapt our way of working, our way of having fun, and our way of communicating with our employees over the past year or so.
Adapting to working from home
We are fortunate to have always promoted and made flexible working available to our employees. So when the time came to batten down the hatches and stay at home, our workforce was able to carry on working almost uninterrupted. We've now gone one step further, and have rolled out full flexible working options to our employees from day one, supporting CIPD's Flex From First campaign.
Keeping employee engagement top of the list
With everyone now working from home, our social committee worked hard to ensure morale was kept high, and teams remained connected. Weekly activity packages, our very first virtual Christmas party, a Rishi Sunak inspired 'Walk Out to Get Out', and lots more in between helping people through the week. The lessons we've learned for keeping our entire workforce engaged, no matter where they work, is something that will stick at Click forever.
Communicating honestly with our employees
Our industry has been hit hard by the pandemic, and with that meant our company's strategy and direction set down a different path. Communicating these changes and keeping all of our employees in the loop was really important to us. Our senior team held monthly updates to share the latest news and company updates. Live Q&A sessions were also held regularly, and gave all employees the opportunity to put questions to our senior team and the board.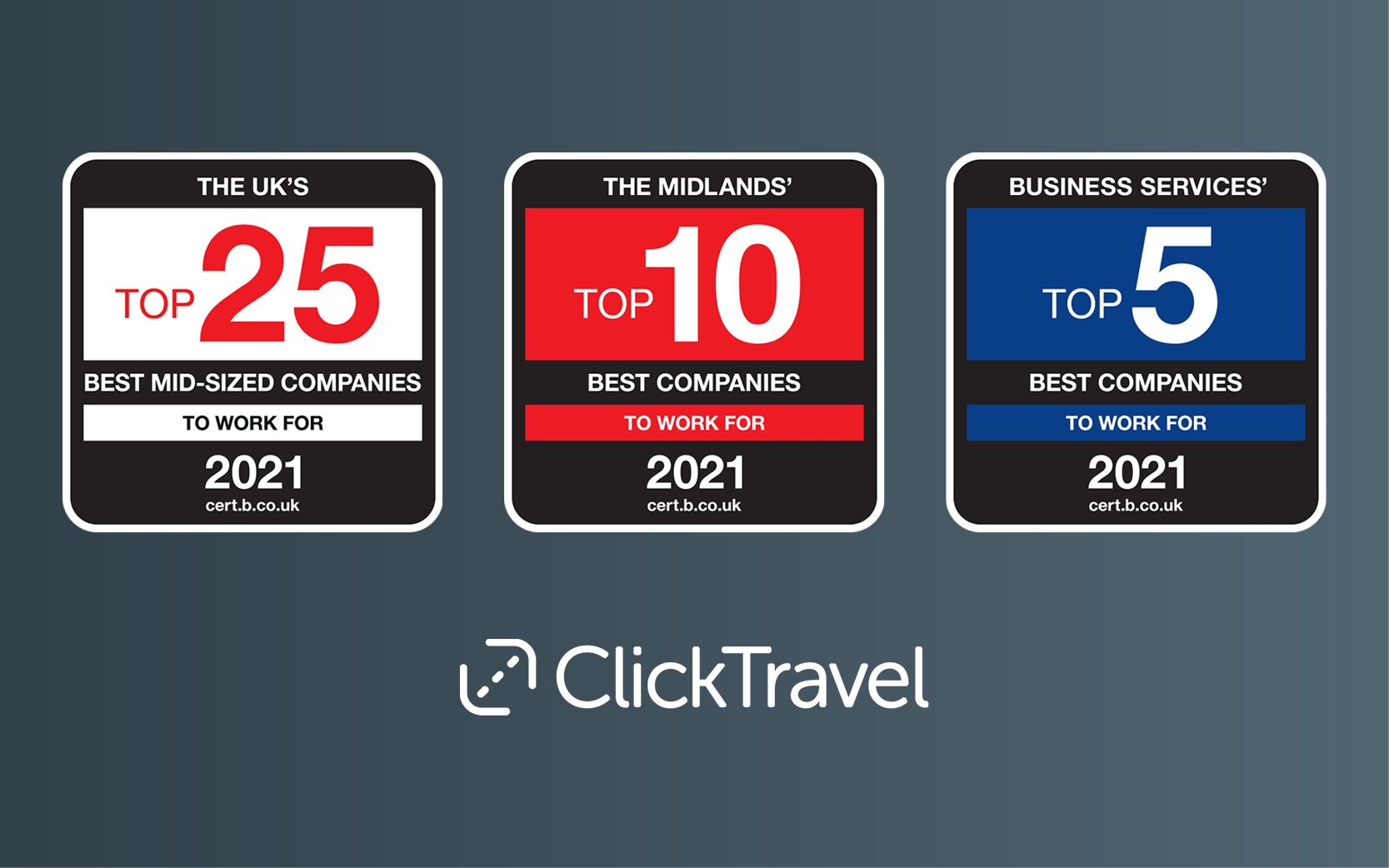 The post Click flies up to 12th position in Best Companies' 100 Best Mid-Sized Companies to Work For 2021 (the 8th year running on the list!) appeared first on Click Travel.