Retail banking in Canada and the US continued to show strong growth
Get the latest from Stephanie Hughes straight to your inbox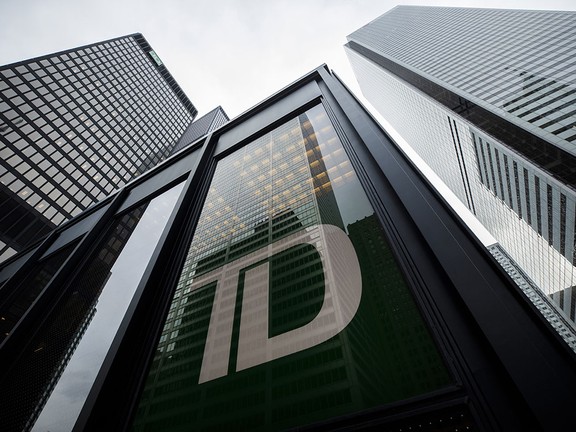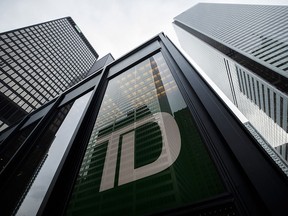 Article content
Toronto-Dominion Bank has scaled back its medium-term growth outlook and announced it will be repurchasing more than 30 million shares as it navigates the aftermath of the collapse of its US$13.4 billion deal to acquire Memphis-based First Horizon Corp.
Article content
The bank revealed the measures on May 25 as it reported second quarter earnings that missed analyst expectations despite profit growth in the bank's core segments.
TD's net income fell to $3.35 billion in the three months ending April 30, down from $3.81 billion last year. On an adjusted basis, the bank's profit rose to $3.75 billion, from $3.71 billion the year before.
Adjusted diluted earnings per share were $1.94 in the second quarter. Analysts surveyed by Bloomberg had been expecting $2.08 per share.
TD scrapped its bid to buy First Horizon on May 4, after it said it was unable to get clarity on the necessary regulatory approvals from US authorities for the transaction.
The share buyback represents 1.6 per cent of the bank's outstanding common shares as of the end of the second quarter and at least partially answers the question of what the bank will do with its excess capital in the wake of the deal.
Article content
TD reported that its common equity tier 1 ratio stood at 15.3 per cent at the end of the quarter, well above the regulated minimum of 11 per cent.
The bank added that because of the termination of the deal and the deteriorating macroeconomic environment, it did not expect to meet its medium-term adjusted earnings per share growth in a targeted range of seven to ten per cent.
The termination of the deal also led to a valuation adjustment loss of $199 million on TD's US$494 million investment into non-voting First Horizon shares and a US$225 million cash break free payable to First Horizon.
Despite a challenging environment, profit at TD's US retail banking unit rose three per cent to $1.41 billion in the second quarter. The profit included some acquisition and integration charges from the First Horizon deal as well as the bank's investment in Charles Schwab Corp., which contributed $250 million to the profit — a 12 per cent increase from last year.
Article content
Loan growth was also up 10 per cent in the US, and while personal deposits declined by three per cent from the year ago period, the bank said they were flat on a quarter-over-quarter basis. Business deposits, meanwhile, declined by six per cent from last year. Deposit flights had been a concern following the collapse of California-based Silicon Valley Bank, which roiled the US regional banking space earlier this year.
Bank-wide reported revenue for the second quarter rose to about $12.37 billion from $11.26 billion last year. TD maintained its dividend at $0.96 per share.
"TD's retail businesses in both Canada and the United States continued to show strong revenue and earnings growth this quarter, with robust customer originations and loan volumes," TD chief executive Bharat Masrani said in a press release accompanying the results. "Investments in differentiated wealth and insurance products and the close of the Cowen acquisition expanded our offerings and strengthened the competitive advantages of these businesses."
Article content
RBC misses expectations

CIBC hikes dividend as profit beats expectations

BMO misses expectations amid Bank of the West integration
Provisions for credit losses, or the amount a bank sets aside for loans potentially going sour, rose to $599 million from $27 million a year earlier. The bank's reported expenses were up over 15 per cent from last year to about $6.99 billion.
The bank's core Canadian personal and commercial banking profit grew four per cent year-over-year to about $1.63 billion, as revenue rose 11 per cent to $4.40 billion.
Profits in the wealth management business, however, slipped 16 per cent year over year to $563 million as results were hit by market volatility.
Canada's five biggest banks have now all reported second-quarter earnings. Only the Canadian Imperial Bank of Commerce has beaten analyst expectations for the quarter, with increased provisions for credit losses being one of the major factors weighing on the results of the others.
• Email: [email protected] | Twitter: StephHughes95