Tupperware is an American kitchen classic, but the brand recently warned it could soon be out of business.
The reusable containers have been a home cooking staple since 1946 and swept the nation with early trends like Tupperware parties in the '50s through the '70s. In recent years, however, they've been less popular with younger generations."
In a regulatory filing earlier this month, Tupperware said it had "substantial doubt about the company's ability to continue as a going concern."
"Further," the company stated in a press release on April 7, "due to the challenging internal and external business economics, coupled with the increased levels and cost of borrowings under its Credit Facility, the Company currently forecasts that, if it is unable to obtain adequate capital resources or amendments to its Credit Agreement, it may not have adequate liquidity in the near term."
Tupperware said in the press release that it had discussed financing options with advisers to see if there's a way forward without losing the business.
In a statement about Tupperware's capital structure and liquidity position, president and CEO Miguel Fernandez said the company has "embarked on a journey to turn around our operations" and "is doing everything in its power to mitigate the impacts of recent events — taking immediate action to seek additional financing and address our financial position."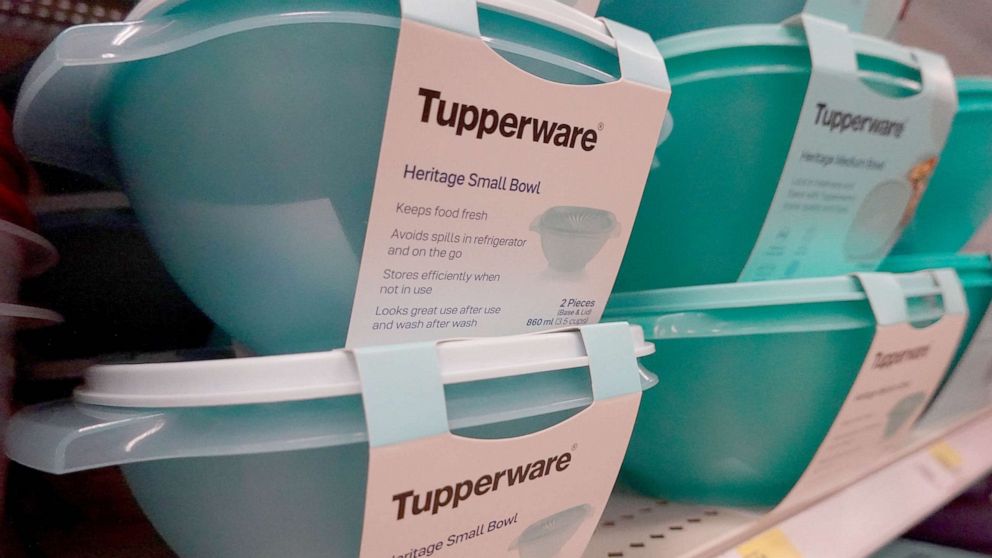 Hitha Herzog, chief research analyst at H Squared Research, told "Good Morning America" ​​it's not surprising that Tupperware is struggling.
"The company has many layers of issues ranging from the way they sell their food storage products via direct sales force and branding issues where they have failed to relate to younger customers," he said. "But at the company's core, the structure of its loans is shaky. The company has had to renegotiate the loan agreements three times since 2022. Higher interest rates along with falling sales and revenue are a recipe for financial disaster."
Herzog compared Tupperware and its market share to other brands that have found more success in the reusables space.
"Tupperware certainly has tough competition, from major brands like Rubbermaid, Glad and Pyrex. What really hurts Tupperware are more environmentally conscious consumers who want to move away from plastics and into more sustainable methods of storing their food," she said. "This lack of innovation and not knowing their core customer wants and needs is what's ultimately going to lead to Tupperware's demise."
Earlier this week, the company's stock price took a 45% dip, MarketWatch reported, marking its lowest level in three years after the warning came out late Friday of its financial challenges. Overall, Tuperware's stock took a 98% dive over the last year.
Last week on a fourth-quarter earnings call, Tupperware said it was working to finalize its now-belated 2022 annual report, with representatives stating that the financial results would "differ significantly" from its preliminary reports at the beginning of March, when the company reported an 18% decline in net sales from the year prior. Tupperware also chalked up lower sales and operating margins as the primary reason for the decline.
In its hunt for additional funding, the company said it is reviewing various aspects of the business from its real estate portfolio to cash management and possible layoffs.
On top of the financial turmoil, Tupperware investors filed a class action lawsuit against the brand, claiming it didn't "disclose its serious issues with internal controls." The suit also claims Tupperware included material "misstatements" in its 2020 financial reporting.
A representative for Tupperware did not immediately respond to ABC News' request for comment.